Looking for a way to go on an epic fishing adventure?
Inflatable kayaks make the perfect vessel for your next angling mission. You can take them anywhere – whether you're paddling downwind or floating with the current, these lightweight boats offer ultimate mobility and convenience. Plus, they're strong enough to handle all sorts of conditions - so you don't have to worry about getting stuck in bad weather.
With inflatable kayaks, you get more time fishing and less time setting up - it only takes minutes to inflate! And when it's time to move onto a new spot, deflating is easy too. So forget lugging around your heavy traditional set-up; with an inflatable kayak, going on that dream fishing trip just became a lot easier.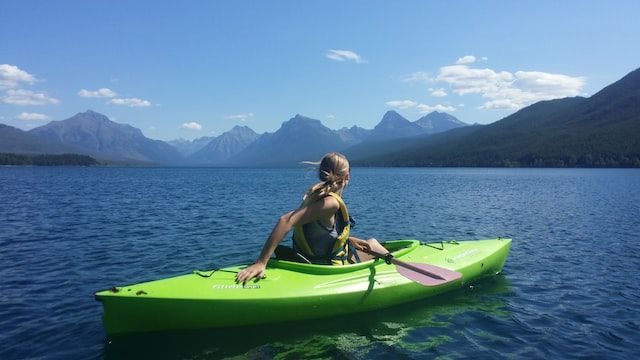 Benefits Of Inflatable Kayaks
Anyone who loves being out on the water knows how special drifting in a kayak is. It's one of the few vessels that is powered by only human strength. They are designed to be excellent sources of exercise and quick transportation across the water.
Inflatable Kayaks are very easy to transport and store due to their lightweight and compact design. They are very durable, made with tough materials that can withstand even the harshest conditions. A single occupant kayak are very cost effective since you aren't buying a motor or any other moving parts.
They are incredibly versatile which can be used for a variety of activities including fishing, touring, whitewater rafting and paddling. Finally, they are just plain fun for people of all ages. There's a certain freedom that comes with rowing a kayak, less moving parts and you are in full control.
Are Inflatable Kayaks Good For Fishing
Inflatable kayaks, as a general class of boats, are excellent boats for fishing. They have multiple options to choose from; very basic to the advanced vessels.
The sheer versatility of inflatable kayaks makes them superb fishing platforms. They can be used on small ponds, large lakes, in sheltered ocean bays and on the longest and dangerous of river floats.
Recreational inflatable kayaks are meant for day uses. Examples include playing around on the lake or river, doing some fishing, diving and snorkeling. Good quality kayaks are also suitable for shorter overnight trips.
Whitewater inflatable kayaks are meant, as the name suggests, for playing around in powerful whitewater. This type of whitewater, rated as Class IV or Class V, is a place few anglers visit by boat.
Expedition inflatable kayaks are the workhorse of the inflatable world. Primarily meant for extended float trips through remote terrain and fully capable to tackle powerful whitewater, these kayaks are equally at home when floating the local river or paddling on the nearby lake.
Lake paddling kayaks are meant for long paddles across large bodies of flat water. To put this in trip terms, think of paddling through the Boundary Waters Canoe Area. For such a long paddle, a kayak specifically designed to make lake paddling faster and easier is what you'd want.
How much of a "fishing rig" a person wants in their kayak entirely depends on their personal needs. The occasional fisherman will survive just fine without many of the features that more hard-core anglers desire.
Occasional fisherman, in fact, just might be better suited buying a "non-dedicated" fishing kayak. Meanwhile, anglers who fish almost daily will almost certainly want a dedicated inflatable fishing kayak for the many benefits these boats provide.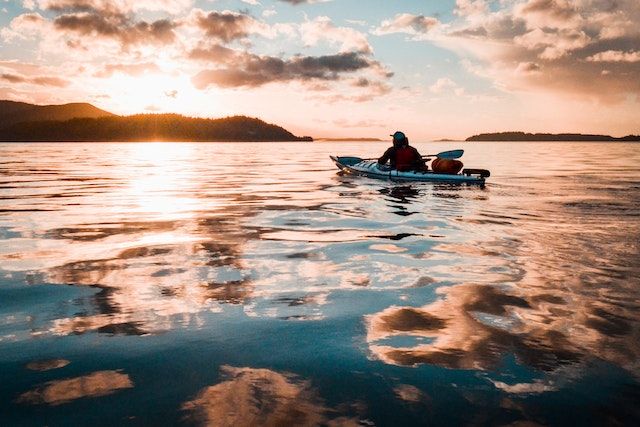 Strategies & Tips For Kayak Fishing
Fishing Strategies
A kayak can't move as quickly or cover as much water as a power boat. Successful kayak anglers tailor tactics accordingly.
Use versatile, easy-to-fish lures. This reduces retying and re-rigging, which means you make more casts in the day and catch more fish because of it.
Locate fish using search baits, like spinnerbaits, swimbaits, and crankbaits. After catching active fish, backtrack with a small jig, drop-shot or other finesse bait to coax more bites from less active ones.
Change tactics to target different species before leaving an area. Kitchen carries three to five rod and reel combos for fast change-ups between species.
Troll from a kayak to cover water or as an alternative to casting.
Tips
Except for tight-to-cover tactics, the recommended fishing rod is a 6'6" or longer rod. The extra length helps control a fish and maneuver it around the kayak and other tangle hazards, like an anchor rope.
Consider using single-hook baits whenever possible and pinching down barbs for speedy hook removal.
For comfort, invest in a light paddle. Tether it to the kayak using a leash.
Check local and state regulations for required safety and boating equipment.
Carry a whistle or other sounding device for alerting power boats of your location.
Always wear a life vest.
Inflatable Kayak FAQs
Buying an inflatable kayak can be a daunting task. There's a lot of information to take in, and it's hard to know where to start.
With all the different brands, models, and specifications available, it can be tough to figure out which inflatable kayak is right for you.
We've put together this FAQ page to help make your decision easier. Here you'll find answers to the most common questions about inflatable kayaks.
Are inflatable kayaks safe?
This is one of the most common questions asked about inflatable kayaks. While they are generally considered to be safe, it is important to take into account the type of water you will be paddling in and the conditions that may arise while on the water.
It's also important to make sure your inflatable kayak is properly inflated and equipped with all necessary safety equipment before heading out.
What are the benefits of an inflatable kayak?
Inflatable kayaks offer a number of advantages over traditional hardshell kayaks. They are lightweight, portable, and easy to store when not in use. They can also be used for a variety of activities such as fishing, touring, or whitewater rafting. In addition, they are often less expensive than their hardshell counterparts.
How durable are inflatable kayaks?
Inflatable kayaks are generally very durable and can withstand a lot of wear and tear if cared for properly. The materials used in construction vary from model to model but typically include PVC or urethane fabric which is highly resistant to punctures and tears.
What should I look for when buying an inflatable kayak?
When shopping for an inflatable kayak, there are several factors you should consider including size, weight capacity, stability, portability, features, and price. You should also make sure that it comes with all necessary accessories such as paddles and life jackets so you can enjoy your time on the water safely and comfortably.
Which is better: hardshell or inflatable kayak?
This depends on your individual needs and preferences as both types have their own advantages and disadvantages. Hardshells tend to be more stable in rough waters while inflatables are more portable and easier to store when not in use. Ultimately it comes down to what works best for you!
In conclusion, inflatable kayaks are ideal for fishing trips due to their stability, portability and storage space. They are lightweight, durable and can withstand a lot of wear and tear if cared for properly.
With all the necessary safety equipment and accessories you need to be safe on the water, this type of kayak is perfect for your next fishing trip.
We've done the research so you don't have to! To browse our Top Picks for Best Kayak Fish Finders please click the link below!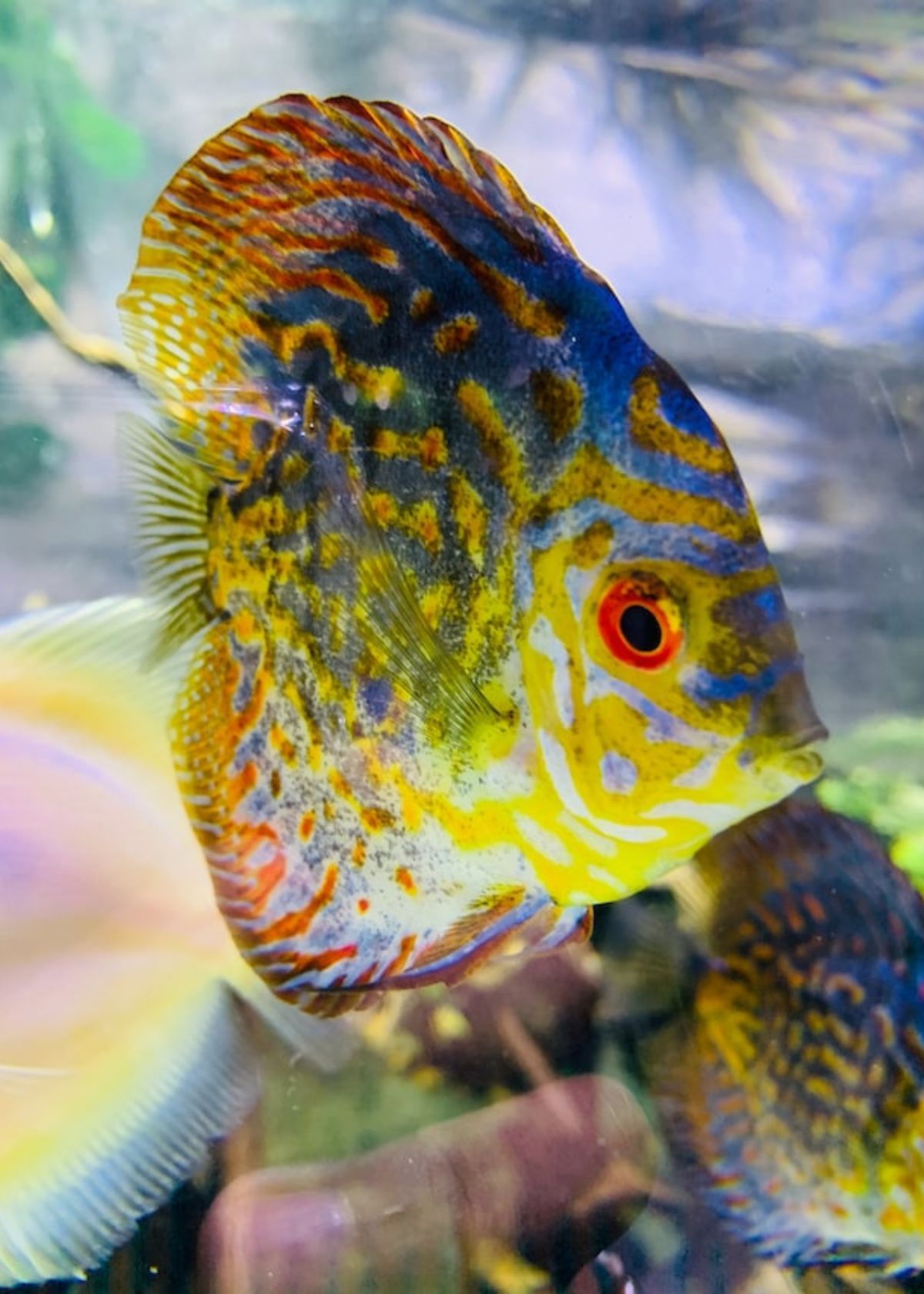 Your Friends,
LoveNatureReviews Team