Tactical flashlights are a unique blend of strength, durability and brightness. They were invented in the late 1800's were hand made from crude paper and fiber tubes with a bulb and a rough brass reflector.
They provide an individual with all the features they are familiar with in a standard flashlight but supersized. So, how does one choose the best rechargeable tactical flashlight? There are many factors that we considered when compiling this guide.
By the end of this article you'll have all the information you need to make the most accurate decision for your needs.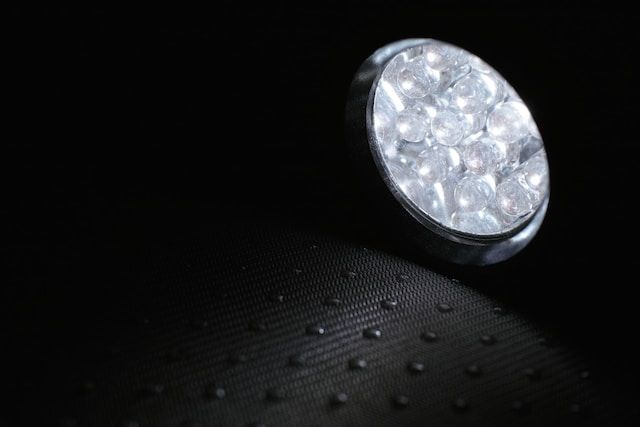 Features List
There are a lot of reasons to consider a certain flashlight over others the primary one being, Features.
High Lumen Output: Tactical flashlights are known for their powerful light output. They typically have high lumen ratings, ranging from 500 to 2000 lumens, providing bright illumination in various situations.
Multiple Lighting Modes: These flashlights offer different lighting modes to adapt to different scenarios. Common modes include high, medium, low, strobe, and SOS. Strobe mode can disorient an attacker, while SOS mode can be used to signal for help in emergencies.
Adjustable Focus: Tactical flashlights often have adjustable focus capabilities, allowing users to switch between floodlighting for wide coverage and spotlighting for long-range visibility.
Durable Construction: Designed for rugged use, tactical flashlights are built to withstand harsh conditions. They are typically made from durable materials such as aircraft-grade aluminum or stainless steel, with water and impact resistance to ensure reliability.
Weapon Mount Compatibility: Many tactical flashlights feature a mount that allows them to be attached to firearms, providing illumination while keeping hands free for aiming and shooting.
Rechargeable Batteries: To ensure continuous and convenient usage, tactical flashlights often come with rechargeable batteries. This eliminates the need for frequent battery replacements and provides a sustainable power source.
Tactical Tail Switch: The flashlight's tail switch is strategically positioned for easy operation, often offering momentary-on and constant-on modes. This allows for quick access to light when needed, especially in high-pressure situations.
Pocket Clip or Holster: Tactical flashlights often come with a pocket clip or holster for easy carrying and quick access. These accessories provide convenient storage options, allowing users to keep the flashlight within reach at all times.
Sturdy Grip: A textured or knurled surface on the flashlight body ensures a secure grip, even in wet or slippery conditions. This feature enhances handling and prevents accidental drops.
Pros & Cons
Give us the good stuff!
Exceptional Brightness: Tactical flashlights are designed to provide incredibly bright illumination, often featuring high lumen outputs ranging from 500 to 2000 lumens.
Versatile Lighting Modes: One of the key advantages of tactical flashlights is their ability to offer multiple lighting modes.
Durable and Reliable: Tactical flashlights are built to withstand demanding conditions. They are constructed using rugged materials like aircraft-grade aluminum or stainless steel, which ensures durability and resistance to impact, water, and extreme temperatures.
Long Battery Life and Recharge-ability: Many tactical flashlights feature rechargeable batteries, which offer extended usage time compared to disposable batteries.
Versatile and Practical Design: Tactical flashlights are designed with practicality in mind. You can take them anywhere due to their minimal size. They often incorporate features such as adjustable focus, allowing users to switch between wide floodlighting and focused spotlighting based on their requirements.
What could be better..
Bulky and Heavy: Due to their rugged construction and the inclusion of additional features, tactical flashlights can be bulkier and heavier compared to standard flashlights.
Higher Price Range: Tactical flashlights often come with advanced features and durable materials, which can contribute to a higher price point compared to regular flashlights.
Complex Operation: With their multiple lighting modes, adjustable focus, and additional features, tactical flashlights can have more complex operation compared to simpler flashlights.
Limited Battery Life in High Brightness Modes: While tactical flashlights may offer impressive brightness levels, using them in their highest output mode can significantly drain the battery life.
Potential Overkill for Everyday Use: Tactical flashlights are specifically designed for tactical and high-demand situations, making them potentially excessive for everyday tasks like reading, household use, or simple outdoor activities.
Best Tactical Flashlight
After thousands of reviews and products tested we've selected the Kodiak 6000 Tactical Flashlight as the Best All-Around Tactical Flashlight.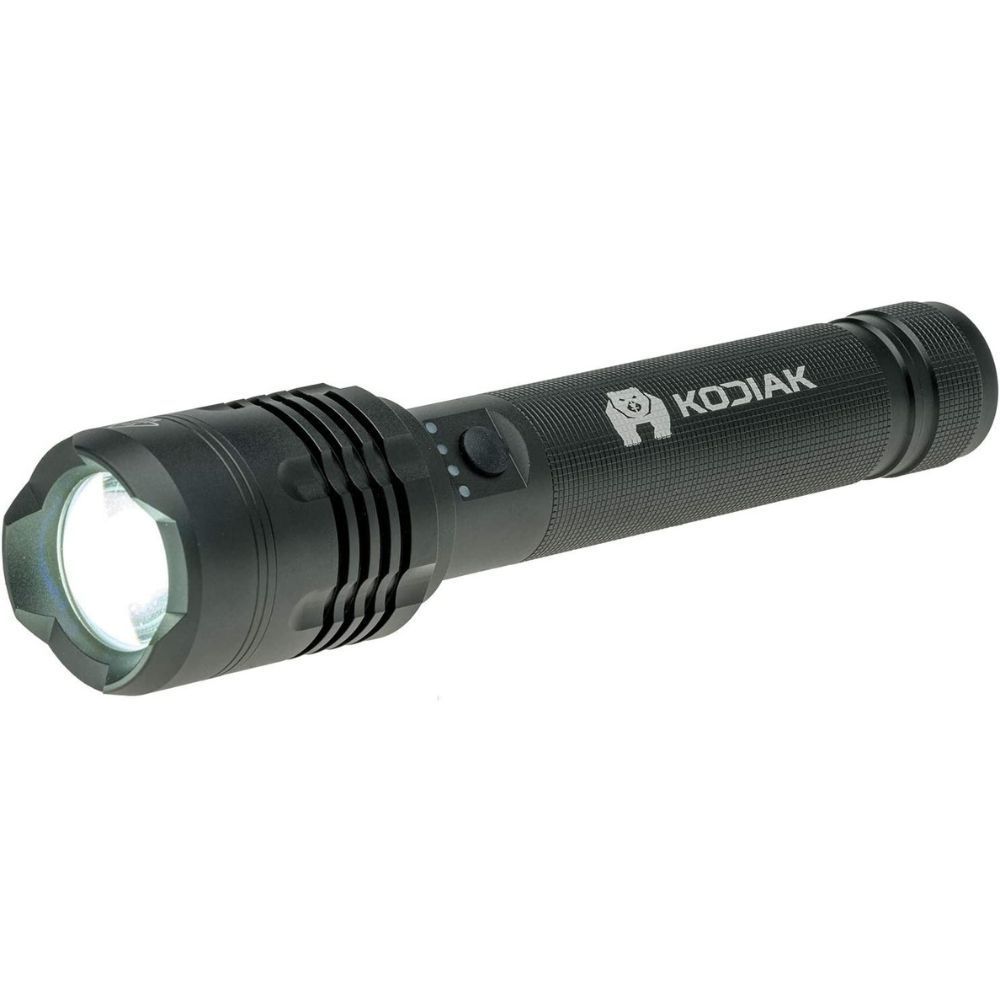 This incredible flashlight is 10.5 inches in length and 2 inches in diameter with a head of 1.5 inches and a body weight of only 2 lbs., making it both lightweight and portable.
Its twist-to-focus beam makes it easy to adjust light levels while taking up minimal space at home or in your bag.
But what sets the Kodiak 6000 apart from other flashlights is its ability to charge your smartphone wherever you are.
With its powerful battery capacity and traditional USB port, it functions both as a power bank and portable backup for any emergency.
With an impressive output of 6000 lumens on its highest setting, it's sure to illuminate your way in any situation.
For those nights when you don't need quite so much blinding power, there are three brightness settings to choose from - ranging from 3000 down to 300 lumens - so you can tailor it exactly to your needs.
And for night owls who want their light to last as long as possible, a full charge only takes nine hours and will give you 8 hours of incredible visibility.
Tactical Flashlight FAQs
Can a tactical flashlight blind someone permanently?
While tactical flashlights are powerful and can produce intense brightness, it is unlikely to cause permanent blindness. However, direct exposure to the eyes at close range can temporarily impair vision and cause discomfort.
Are all tactical flashlights waterproof?
Not all tactical flashlights are waterproof, but many of them offer water resistance to varying degrees. It's essential to check the manufacturer's specifications or product descriptions to determine the level of water resistance a particular tactical flashlight offers.
Can a tactical flashlight be used as a self-defense tool?
Yes, a tactical flashlight can serve as a self-defense tool in certain situations. The sturdy construction, high brightness, and strategic design of tactical flashlights can be utilized to disorient an attacker temporarily.
We hope you've enjoyed our Buyer's Guide for Tactical Rechargeable Flashlights. You are now armed with the knowledge to make an informed decision on your next purchase.
We've done the research so you don't have to! To browse our Top Picks for Best Rechargeable Tactical Flashlights please click the link below!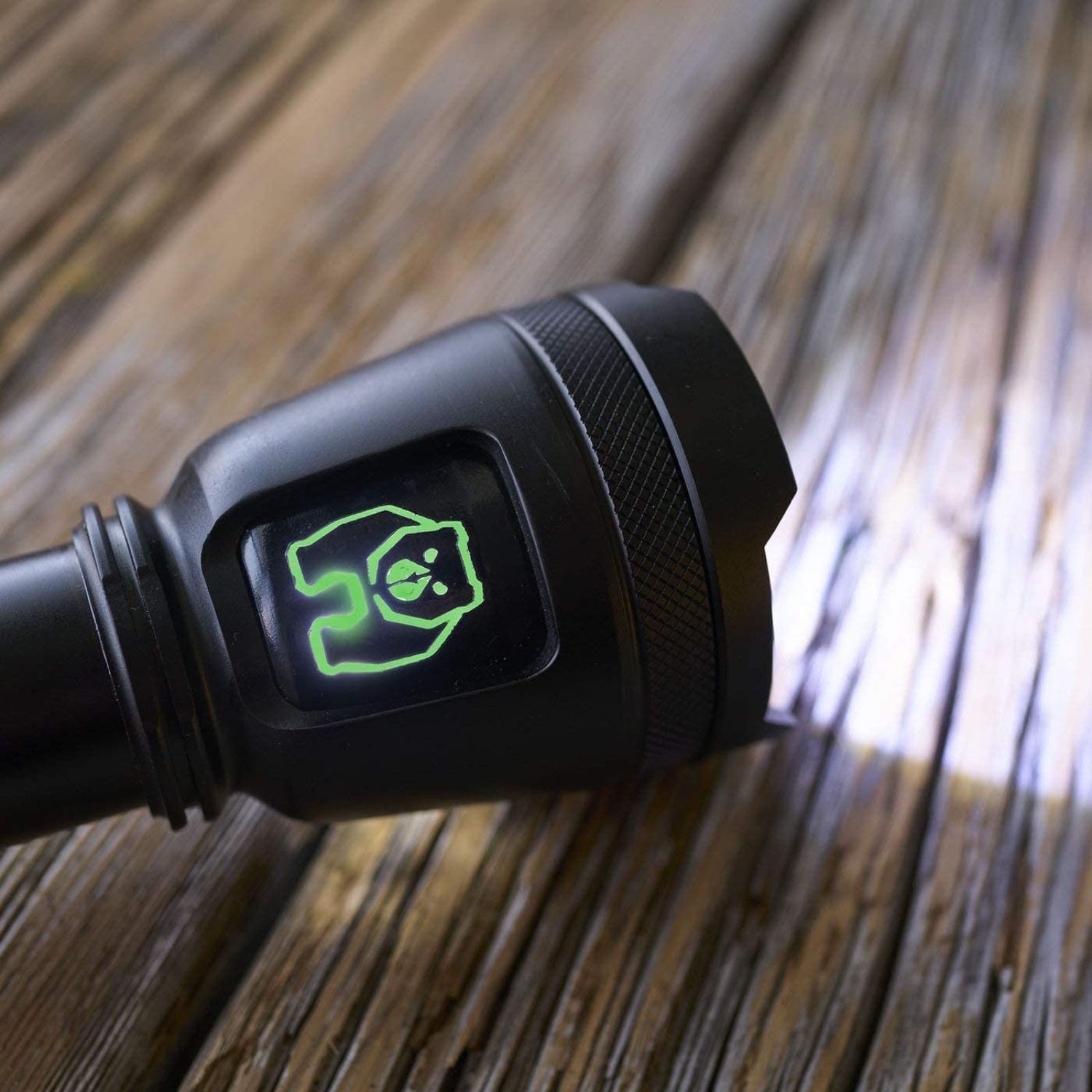 Your Friends,
LoveNatureReviews Team