Ready to swap your standard flashlight for something with a bit more illumination?
Introducing... the tactical flashlight! This is an ultra-bright tool, perfect for security guards, military personnel or anyone who wants to feel extra safe and secure.
It can easily fit in any space, from purses and backpacks to weapon holsters. But that's not all — it also includes adjustable zoom capabilities and SOS alert signals!
When you're out there in the dark, make sure you've got maximum brightness on tap - this is ideal for camping trips, long hikes or general exploration.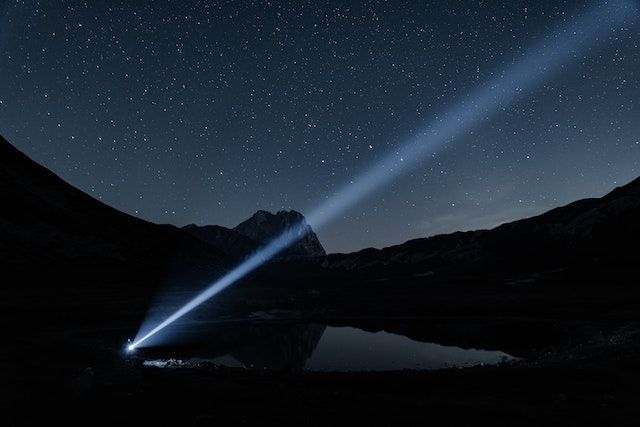 What Is A Tactical Flashlight
A tactical flashlight is a flashlight used in conjunction with a firearm to aid low-light target identification, allowing the marksman, law enforcement officer or soldier to simultaneously aim a weapon and illuminate the target.
As is implied in the definition, these flashlights are designed for professional use by law enforcement officers, military personnel, and security officers.
Sometimes these lights can also be mounted to a weapon with a sighting laser attached. These tactical lights don't necessarily have to be used in conjunction with a weapon for the light to be considered tactical.
Features Of A Tactical Flashlight
Tactical flashlights are designed for use in high-stress situations, often by military personnel, law enforcement, or outdoor enthusiasts.
They come with a range of features that set them apart from regular flashlights:
Brightness: Tactical flashlights offer high-intensity LED bulbs that emit a powerful beam of light, typically measured in lumens. Some models can output over 1000 lumens.
Durability: These flashlights are built to withstand harsh conditions, made from materials like aircraft-grade aluminum or high-quality plastics. They are often impact-resistant and waterproof.
Size and Weight: Tactical flashlights are generally compact and lightweight, ensuring easy portability and handling in various situations.
Multiple Lighting Modes: Most tactical flashlights have different brightness levels, strobe mode, and sometimes an SOS mode for emergency signaling.
Beam Focus: The ability to adjust the beam focus from a wide floodlight to a concentrated spotlight allows for versatile use in different scenarios.
Tail Switch: A tactical tail switch or button makes it easier to operate the flashlight with one hand, which is beneficial during high-pressure situations.
Weapon Mounting: Some tactical flashlights are designed to be mounted on firearms, providing illumination during low-light shooting scenarios.
Self-Defense Features: Many tactical flashlights come equipped with a strike bezel or crenulated bezel, which can be used as a self-defense tool in close-quarter situations.
These features make tactical flashlights an essential tool for individuals who require reliable and versatile lighting solutions in demanding environments.
What Is The Best Tactical Flashlight
We've done research all over the web and come up with the all around best tactical flashlight currently on the market: IMALENT MS18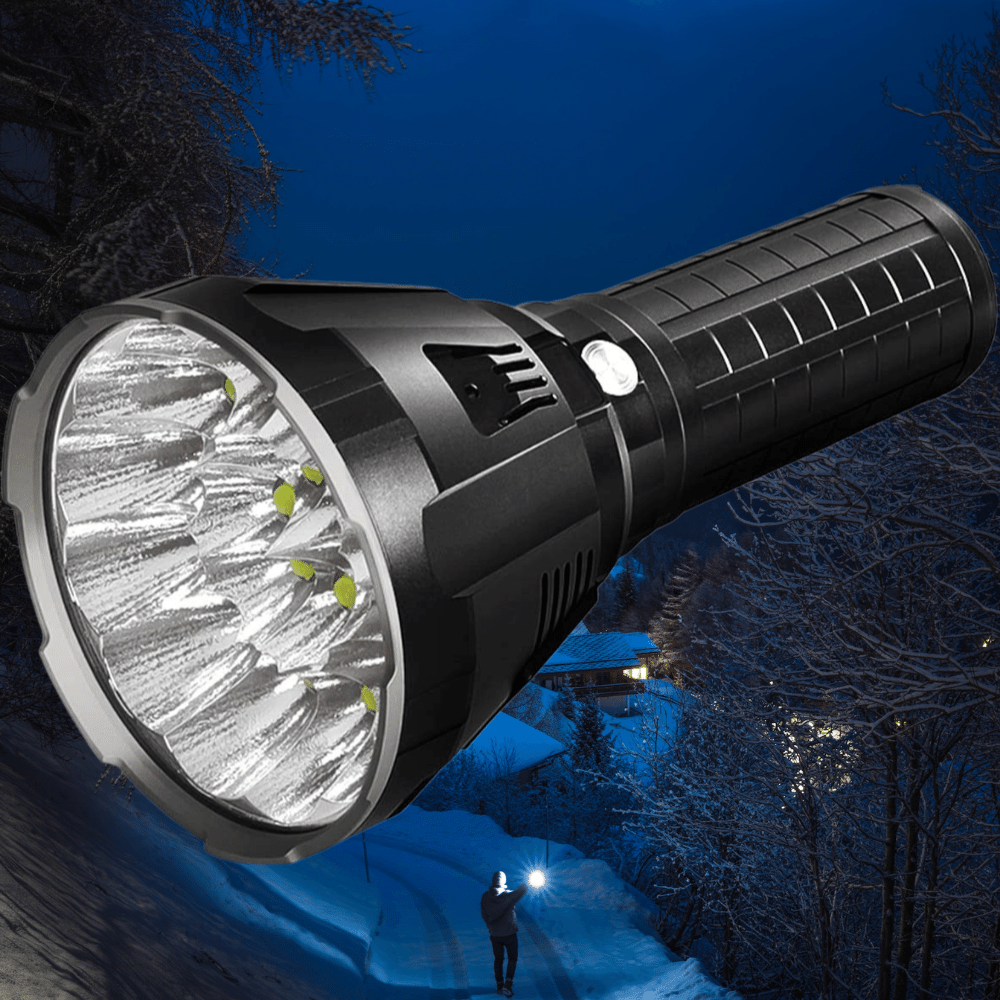 Introducing the IMALENT MS18, the world's BRIGHTEST flashlight. With 100,000 lumens of power, this light is perfect for search and rescue operations.
This super bright tactical flashlight features high efficiency and a constant current circuit that will maintain constant brightness, making it an indispensable tool in any emergency.
If you're looking for insanely bright light, the MS18 is a great option. It uses 18 American CREE XHP70 2nd LEDs that can produce up to 100,000 lumens of light.
The sheer illumination of this tactical flashlight is almost unbelievable considering it's packed into such a small housing. You won't ever need to purchase another flashlight ever again after owning this behemoth.
It has a long range of up to 1350 meters. So if you need a light that can illuminate a large area, the MS18 is a good choice. It's not a cheap option but is the crown jewel of flashlights on the market today.
Battery Life Explained
The life of a flashlight's battery is measured by how long it takes a fully-charged light to drop to 10% of its original value.
Flashlight battery life is directly affected by the light's output — the brighter a flashlight shines, the more quickly its battery drains.
There are two ways a flashlight uses energy: regulated or unregulated. Each system has its pros and cons.
Regulated
In a regulated flashlight, the beam brightness remains the same throughout the life of the battery. When the battery dies, the light suddenly shuts off.
While the light does maintain its brightness consistently throughout the life of the battery, there isn't a good way to know how much life the battery has left before it dies.
The abrupt shutoff may come at a critical moment so it's important to have a backup.
Unregulated
In an unregulated flashlight, the beam starts at its brightest point and consistently gets dimmer and dimmer until it dies.
While less light becomes available over time, the steady loss of light gives an idea as to how much battery life is left, helping to avoid a complete and unexpected loss of light.
Unregulated flashlights allow you to budget your battery life better for when you need it most.
Water Resistance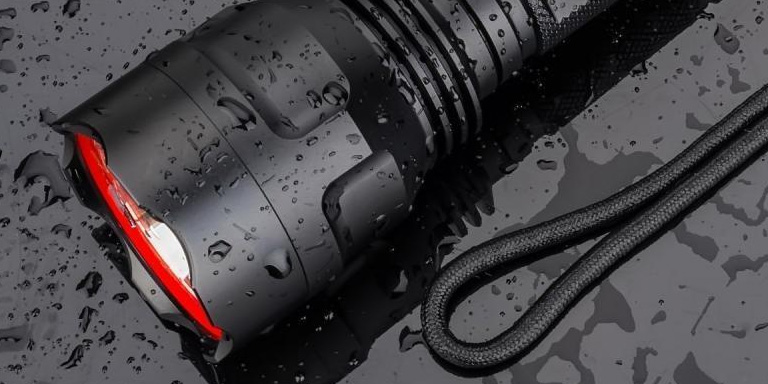 In the course of duty, a flashlight may encounter water in a number of scenarios. Most commonly, water damage to flashlights occurs in heavy rainfall.
A light becoming completely submerged is not unheard of, however, especially when navigating complex terrain. It's a good idea to choose a flashlight with water protection.
The IPX scale (developed through ANSI/NEMA FL-1) indicates a flashlight's level of water resistance. The higher its IPX rating, the more water a tactical light can withstand over a longer period of time.
At IPX4, a tactical flashlight is considered water-resistant. Water can be splashed on it from all sides without any getting inside and the light will function normally.
At IPX7, a tactical flashlight is considered waterproof. It can be submerged in up to one meter of water for thirty minutes or less and still operate properly.
At IPX8, a tactical flashlight is considered submersible. It can last up to four hours in depths greater than one meter and still work when it is taken out.
Functions & Features Of A Tactical Flashlight
Thousands of tactical flashlights exist today, each with multiple functions and features. A soldier may need a large, durable flashlight with high lumens and different light modes while a detective may require a smaller, more low-profile light that doesn't draw much attention.
Light Modes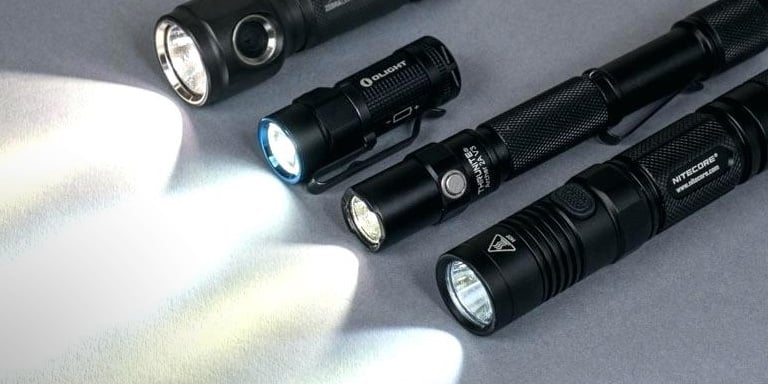 One of the most useful and practical features, are the beams of some tactical flashlights can be dimmed or brightened by cycling through different light modes.
Police officers scouring the woods for a suspect, for example, would brighten their beam to increase visibility. Similarly, lowering the brightness of your light can help avoid detection. This lowered output is also very effective at preserving battery life.
Many tactical flashlights also come equipped with a strobe mode which causes the light to flicker on and off very quickly. On particularly bright lights, the strobe setting can be used to disorient anyone downrange. It can also be used to signal for help if you become stranded.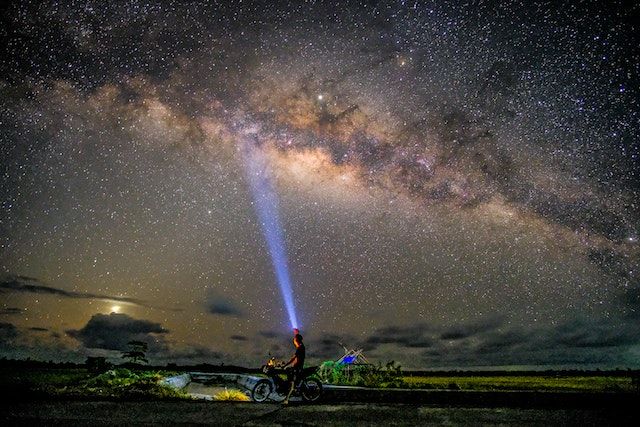 Beam Type
Depending on the situation it would be helpful for your flashlight's beam to have a wide radius. Other times, you may need a more narrow beam that reaches a bit further.
When choosing a tactical light, it is wise to consider a flashlight's beam type and how that beam type will affect how you use the light.
Flood (or fixed) beam
A flood beam is a wide swath of light that covers broader but shorter distances. This type of beam is helpful when surveying a large, open area.
Spot (or focused) beam
A spot beam is a narrow light beam that reaches far but doesn't shine on a lot of things. This type of beam is helpful when you're looking for something smaller and further away.
Adjustable beam
A tactical flashlight with an adjustable beam is perhaps the most useful. These lights allow you to manually change the width and distance of the light beam based on your most immediate needs. It offers the best of both a flood and a spot beam.
Bulb Type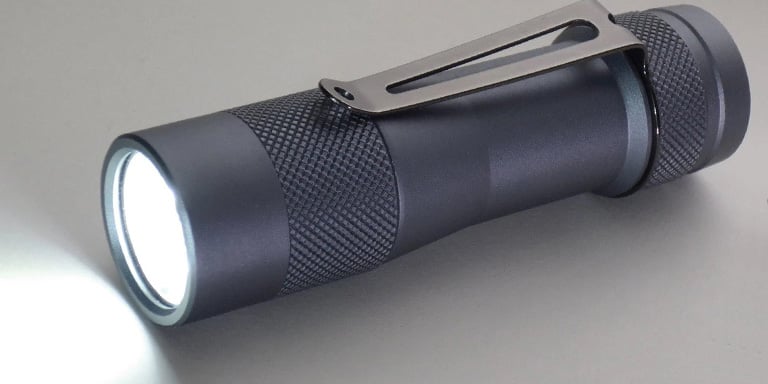 For the longest time, incandescent and xenon light bulbs came standard in flashlights. There were literally no alternatives, so it made sense to use them.
However, they were expensive and they got very hot very quickly. They drained the battery life of a light and they didn't produce a lot of light.
As technology progressed, LED (Light Emitting Diode) bulbs came along and offered a better solution. They have much longer battery lives than incandescent and xenon bulbs.
They don't get nearly as hot, they are brighter and much more cost-effective. LED bulbs are now standard in tactical flashlights and are the absolute best option to use.
Tactical Flashlight FAQs
How many lumens is good for a tactical flashlight?
Generally speaking, a flashlight with 500 lumens is considered good for most tactical situations. This level of brightness is enough to illuminate surroundings in the dark, cut through the fog, and even temporarily blind attackers in self-defense situations.
However, some experts suggest that a 1000-lumen flashlight is ideal for high-risk situations, as it can light up a wide area and disorient even the most determined criminal.
What is the best tactical flashlight with belt clip?
One of the top picks for the best tactical flashlight with a belt clip is the Olight M2R Warrior. This flashlight boasts an impressive 1500 lumens, a runtime of up to 70 hours, and a magnetic tail cap for hands-free use. It is also water-resistant and impact-resistant, making it a durable choice for outdoor enthusiasts and law enforcement personnel.
What flashlight does the US military use?
The flashlight that the US military uses is the SureFire G2X Tactical Flashlight. This powerhouse tool is designed with a rugged body that can withstand harsh environments and is built to provide bright light during tactical operations.
It features a high-efficiency LED that can emit up to 600 lumens, enough to light up the darkest corners. The G2X Tactical also has a reliable tail-cap switch for effortless on/off operation and provides a runtime of up to 45 hours.
What is the difference between a flashlight and a tactical flashlight?
A flashlight and a tactical flashlight may look similar at first glance, but some significant differences set them apart. For starters, a tactical flashlight is specifically designed for tactical use, meaning it's rugged, durable, and versatile. These flashlights are often used by law enforcement and military personnel as they need to perform their tasks quickly and in challenging environments.
Unlike regular flashlights, tactical flashlights usually have multiple modes such as strobe, SOS, and high/low beam, giving the user greater control and the ability to adjust the light according to the situation. They also tend to be brighter, with a stronger beam that can illuminate objects up to several hundred feet away.
How far will 1000 lumens shine?
Lumens are a unit used to measure the amount of visible light emitted by a source. The distance a light will shine depends on several factors such as the shape of the light, the type of lens used, and the environment it's in. However, as a rough estimate, a 1000 lumen light can typically shine up to 200 meters or 656 feet in ideal conditions.
Tactical flashlights are your best protection against danger in the wilderness, midnight walks and taking your best fur baby out for a stroll.
We've done the research so you don't have to! To browse our Top Picks for Best Rechargeable Tactical Flashlights please click the link below!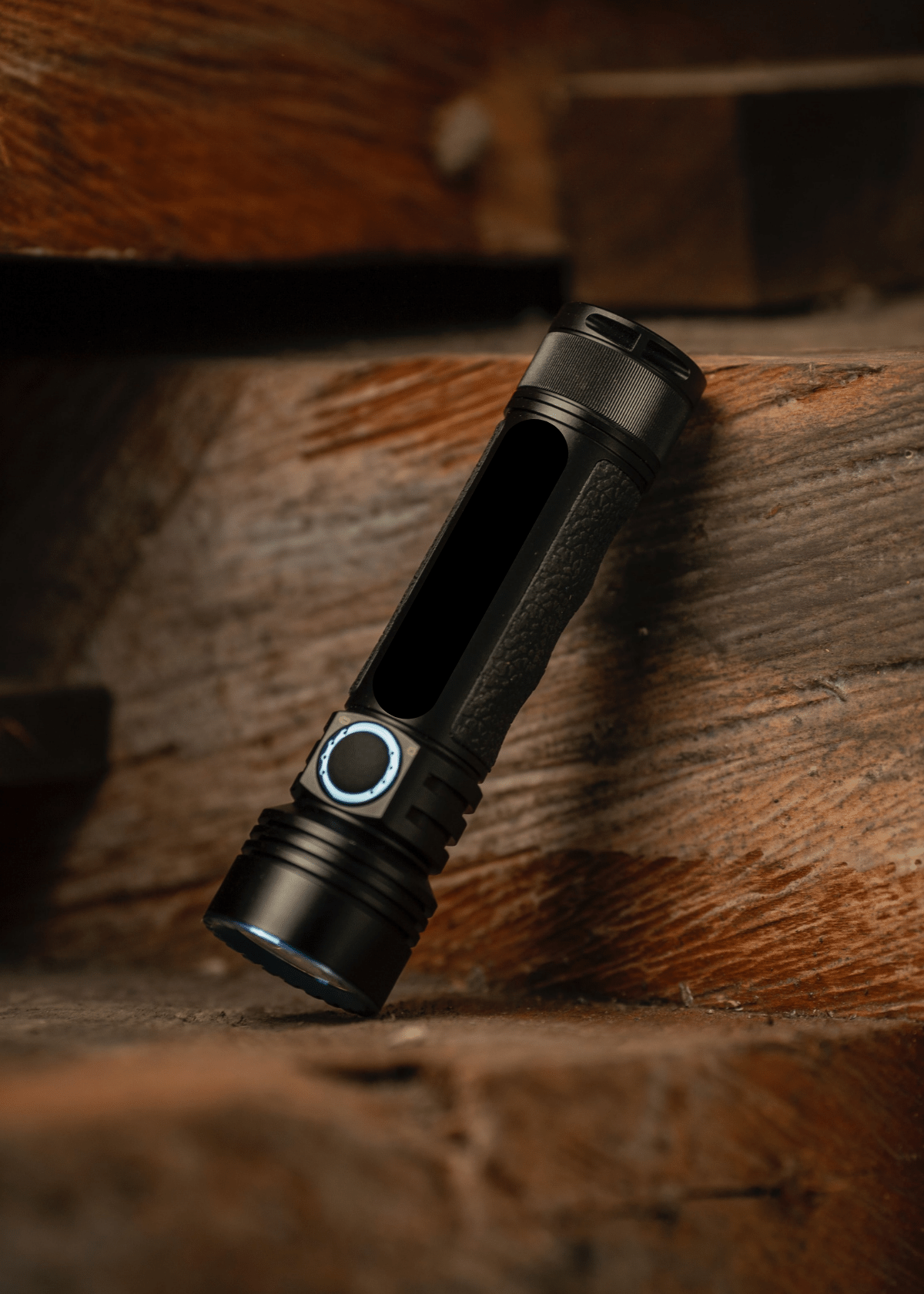 Your Friends,
LoveNatureReviews Team